First releasing the very short poem 'Jenny Kissed Me', in around 1838, first found it myself in a very smart compilation book of poetry my dad had. Worked up an arrangement and starting singing the melody: The irony about the Leigh Hunt original being short is that over the years a few people have had official cracks at writing extra verses. All three official versions were printed in the book I'd been given.
So there you go, other than my own mom being called the very same name had no reason not to wish to sing it. That stated why call the project 'Skin The Goat And The Invincables'? 
Jenny Kissed Me, is Available To Stream Worldwide!
The idea in principle is based on the now infamous Skin The Goat & The Invincibles a group of Irish Republicans who were hanged for the murder of an English official in Phoenix Park, Dublin in the late 19th century. The originality of it caught my eye as the main character called 'Skin the Goat' is flanked only by a man called Curley. Daniel Curley to be precise. He made quite the telling speech just before his hanging.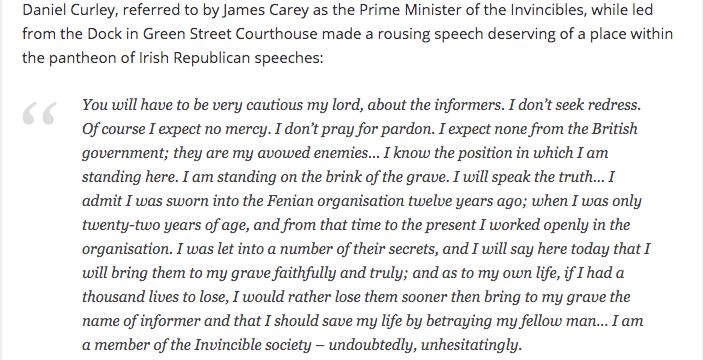 Click The Picture To Read The Full Report
That stated on a lighter note decided to turn the infamous characters into an animated film group of animals besides a goat being their leader, who walk around the Irish countryside meeting people and putting things right through the music. 
End It All - Available To Stream Worldwide.
You'd be surprised how much this gets streamed out in the world as I\ve never promoted it. The odd 50 times here and there which means it was receiving some sort of open airplay. The intro being playful itself.
Check it out one time and be sure to leave a comment. 
Michael David Curley